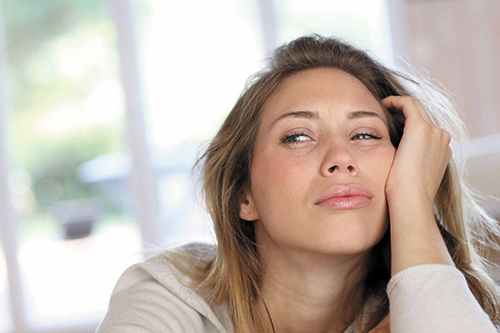 If the winter weather has you feeling down and even downright depressed, you may suffer from SAD, also known as, Seasonal Affective Disorder.
SAD is a type of depression. Symptoms of it include oversleeping or having problems with sleep, losing interest in activities that you once enjoyed, low energy, difficulty concentrating, and other signs of depression. What makes SAD different from depression is that it usually occurs from late fall through the winter and the depression is not felt during the summer months.
It is believed that the darker time of year leads to less sun exposure which causes disruptions in the circadian rhythms that tells us when it is time to be asleep and time to be awake. Exposure to sunlight also helps us create serotonin which is a "feel good" hormone. Serotonin is also a hormone that converts to melatonin which is necessary to help us sleep at night. Of course, no one feels well when they are tired and having disrupted sleep often contribute to the problem.
Anti-depressants may be prescribed to help with Seasonal Affective Disorder but anti-depressants come with a price. Many anti-depressants work by recycling the serotonin which results in the body making less serotonin because it thinks that levels are sufficient. This leads to more sleep issues, weight gain, and a lack of enjoyment in life or, as more than one of my clients has described it, "feeling flat."
Many people prefer to go with a more natural approach to dealing with SAD. Some suggestions are:
Going for a walk in the morning to absorb as much natural light as possible.
Eating a healthy diet that includes plenty of vegetables, nuts, and seeds. Many people crave carbohydrates and sweets during this time of year but those foods drain energy and make the situation worse.
Exercise for at least 15 minutes every day. This could be gentle stretching when you first get out of bed followed by that walk that was mentioned earlier. Any time you move your body, your mood will improve. It could be something as simple as parking in the back of the parking lot and walking further to run your errands.
If you regularly participate in activities, continue to do so. Connecting to others makes us feel happier and more confident.
Make use of light therapy. A full-spectrum light is a light that is about 20 times brighter than room lighting and, when you are exposed to it for 15 to 30 minutes a day, it can help with the symptoms of SAD.
Limiting the amount of time spent on technology. Computers, e-readers, cell phones, televisions and other forms of electronics emit positive ions that contribute to feelings of depression and anxiety. Authentic Himalayan salt lamps reduce the effects of positive ions because they are naturally dehydrated sea water and, like the ocean, emit negative ions. I encourage my clients to have salt lamps at their work stations as well as rooms that they frequent in their homes.
Do you suffer from Seasonal Affective Disorder? How do you manage it?
Missy Cohen, MPH, Certified Functional Medicine Health Coach is the owner of Just Breathe, a salt room in Westborough, MA and helps people with chronic health conditions through lifestyle changes. Just Breathe offers light therapy, as well as salt room sessions where people can experience the effect of negative ions emitted from a beautiful Himalayan salt wall. Ask about a SAD package.
Seasonal Affective Disorder (SAD), (2017, Oct.25). Mayoclinic.org. Retrieved 24 January 2019, from https://www.mayoclinic.org/diseases-conditions/seasonal-affective-disorder/symptoms-causes/syc-20364651
C.J. Harmer, M. Charles, S. McTavish, E. Favaron, and P.J. Cowen. (2012 August) . Negative ion treatment increases positive emotional processing in seasonal affective disorder. Psychological Medicine. Retrieved from https://www.cambridge.org/core/journals/psychological-medicine/article/negative-ion-treatment-increases-positive-emotional-processing-in-seasonal-affective-disorder/FCC3A306893A2E4449AF24E3FDAFA529