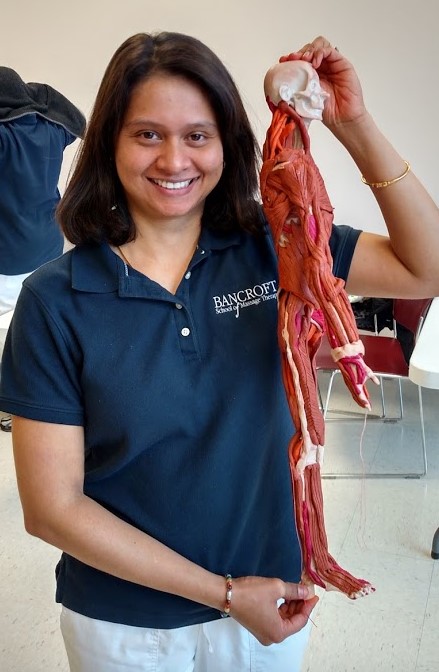 Combine the love for Creativity and Science – what do you get? You get Massage Therapy and a Mannequin (Mr. Popeye) like the one you see in the pic above. Mr. Popeye had enormous Biceps and I named him so :). The pic was taken when I was a student at Bancroft School of Massage Therapy. What started of as a need to break away from routine and nourish my brain that was bored from Technology and Business Analysis (yep !! that's my full time job) turned into an enrollment at BSMT!!!…and hence my journey as a Licensed Massage Therapist began….
I believe in the body's innate capability to heal itself and in the harmony of body, mind and spirit. My massage is a unique blend of Swedish, Deep Tissue, Myofascial Release and Thai Massage Techniques that provide both relaxation and pain relief. Through my intuitive and creative style of massage, I enjoy helping clients to wind down and to realize increased body awareness, thus kick-starting the body's natural healing process.
I am also certified in Traditional Thai Massage, Thai Foot Reflexology and Ashiatsu. I graduated from Bancroft School of Massage Therapy in Worcester, MA and am licensed with the state of Massachusetts. I am also a member of the AMTA (American Massage Therapy Association).
As a full-time working mom, I understand how difficult it can be to find time for self-care. Living with pain becomes the norm for most of us. Hence, it is my vision to support and encourage women to not only make time for self-care but also to help them pay close attention to what their bodies are telling them.
I work out of Just Breathe in Westborough and am excited to be serving the community of women, as a Licensed Massage Therapist (LMT).